V/A - Albedo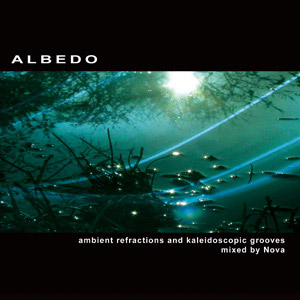 Tracklist:
CARBON BASED LIFEFORMS - Digital Child
BETWEEN INTERVAL - Wishful Thinking
SOLAR FIELDS - Fiat Lux
ISHQ - Ra
OCHI BROTHERS - Silver Shore
NOVA featuring AES DANA - Kalaallit Nunaat
SYNC24 - Waiting
HOL BAUMANN - Human
AES DANA - Aftermath #8
VIR UNIS - Light Curve
ANTONIO TESTA - Sunset
CD compilation,
Ultimae Records
Release date: July 11, 2005
My featured track: Between Interval - Wishful Thinking
[ambient refractions and kaleidoscopic grooves mixed by Nova]
Albedo is a concept compilation where all tracks contribute to a single unified story. On his first official mix release on Ultimae Records, Nova has selected a kaleidoscopic array of new panoramic tunes with a strong cinematic feeling and a common fil rouge that tells a story of light beams falling on Earth, reaching different corners of the planet, from natural lonely environments of forests, empty shores and arctic landscapes to more busy urban cyberspaces ending in an ethereal, tribal yet meditative sunset.
Where to get this CD:
Ultimae webshop
Psyshop
Amboworld
Beatspace
Wirikuta
Chaos
Reviews:
Isratrance Forum
Melliflua
Morpheus Music
Reviews & comments
#02: Between Interval – Wishful Thinking Despite the fact, that this guy (Stefan Jönsson) has released two albums, this is my first encounter with his work… This is a very nice track that immediately stood out when I first listened to this CD… Radio-static and undecipherable voice samples mixed with dark ambient… And eerie orchestral pads and synth-stabs… This is some spooky shit actually – Icy cold, dark ambient…Beautifully executed!
-
DeathPosture
I imagined listening to this album to be an aural equivalent of walking through a gallery where intricate patterns are projected and swirled around on a dark background. Though each track has its own character there's an ineffable something that ties them all together.
-
Melliflua
'Ambient refractions and kaleidoscopic grooves' mixed by Nova. Albedo features artists both well established and relatively unknown such as Between Interval who provided the delightful track Wishful Thinking where the suggestion is almost that of a prayer for the day to come.
- Paul,
Morpheus Music