Between Interval - Radio Silence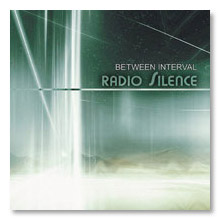 Tracklist:
01.

From a Silent Surface
02.

Wishful Thinking
03.

Overheard
04.

Radio Silence
05.

Aerolith
06.

The Dark Light
07.

Katakomb
08.

Your Flesh is Irrelevant
09.

Open Frequency
10.

Vortex
11.

Field and Void
12.

End Station
CD album, Spotted Peccary Music
Re-released: October 9, 2007
Originally released: July 2004
Radio Silence is the album which contains the very first ambient music I ever made. I started working on this early 2003. After having finished a 50 minute long mix, I submitted it to the webradio station Digitally Imported. They put it into their chillout playlist, and it has been played regularly since then, with several thousand listeners. I received lots of good comments which really encouraged me. However I wasn't quite satisfied with the 50 minute version, so I continued working on it and finally Radio Silence became almost 75 minutes long - finished around July 2004 and then sold in a limited CD-R edition through this website. The CD-R edition came packed in jewelcase, high quality black CD-R and printed label and sleeve.
The CD-R edition went out of stock, but Radio Silence has now been remastered and re-released on real CD on American label
Spotted Peccary Music
.
If you'd like, it's possible to order this CD directly from me! All orders are taken from my ambient web site, at
www.betweeninterval.com
. The CD sleeve can be signed upon request.
If you prefer the usual shops, Radio Silence is also available in many other places, for example:
Spotted Peccary webshop
Amazon.com
Amazon.jp
(Japan)
Amazon.de
(Germany)
Amazon.fr
(France)
CD Universe
Megastore.se
(Sweden)

- Review in
E-dition Magazine
.
Reviews & comments
Radio Silence is a dream with its own soundtrack - a fantasy of a bleak time yet to come.
- Chuck van Zyl, Star's End
It is very catchy, and quite different from the dark ambient sound of Secret Observatory, although Jönsson's ability to make more concise tunes was evident on Autumn Continent. This is more like thinking man's ambient dub or trance.
- Phil Derby, Electroambient Space
This composer succeeds in creating an unusual kind of Ambient with this album, with beauty and mystery at the same time, and inspired by the indefinible charisma of the radio as a pioneering means of telecommunication as well as one of the most important ways, if not the main one, through which music has been popularized in the last century.
- Alejandro Hinojosa, Amazings.com
Laying bare the imagined world "From a Silent Surface" opens the album with effects like sonic stonefalls on a synthetic lake while strange rustling and distorted non-human voices lurk just beyond the foreground. This builds up to a moody drum-esque rhythm and constantly passing air pads and refrains briefly rippling as if they're decayed sirens. The mood gets thoughtful in the next track "Wishful Thinking". Voices, including brief operatic vocals, and music are heard intermittently over the white noise of a radio being tuned while pads reverb around the soundscape. A lovely rippling melody on some kind of plucked instrument sound then comes in to finally be joined by a laid back rhythm.
- Dene Bebbington, Melliflua
Radio Silence presents a series of tracks that alternate between blissfully serene downtempo and cloudy techno ambience. There are some very beautiful melodic tracks where soft beats and moody peripherals hang in the background supporting the attractive lead lines on lush shifting beds of sound.
- Paul, Morpheus Music
"Between Interval creates ambient music which is so diverse and so concrete at the same time, that you cannot pass it over without any emotions. It captures you from the first sounds of the opening 'From a Silent Surface', then leads you through many different dimensions, revealing new horizons during every new listen and finally brings you to the 'End Station'. The music is surprisingly fresh, seems to be extremely complex and holds a great load of fantastic emotions.
...
I truely recommend these 75 minutes of excellent ambient music and already consider this album as one of the best in 2004 and put it very very high on my personal list of all-time favourites."
- Aruzz, Foreshadow Magazine. Read the full review here!