Chilltronica - a definition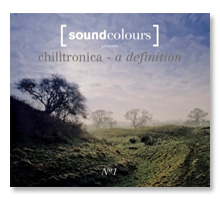 Tracklist:
Grotesquely Beautiful - Antonymes
Don´t Stop - Blank + Jones with Claudia Brücken
Unanswered Letters - Bliss
Morning After - Michael Rother
Shelter (Slow Phase) - Spooky
Ghosts - Infantjoy feat. Sarah Nixey
Hinterland - Marconi Union
Floatation - The Grid
The 7 Solution - Bdum Bdum Sound
Ghost Trains - Erlend Øye
Shortcuts (Lulu Rouge Remix) - Trolle Siebenhaar
Melankoli - Lulu Rouge
Sleep in my Arms [Between Interval Remix] - Sally Shapiro
Waiting For The Night - Depeche Mode
Zero Gravitation (Beatless Mix) - Johan Agebjörn
A beautiful autumn ambient/chillout CD compiled by renowned trance/club music producers Blank + Jones.

"As the name states clearly, it is music for the quiet moments, but not with the balearic chill out vibe. It is more electronica driven and a bit darker and melancholic."

Featured track: Sally Shapiro - Sleep in my Arms (Between Interval remix)
Reviews & comments
No reviews yet...