V/A - Club Affairs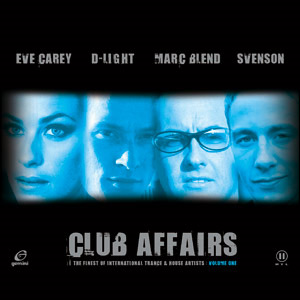 Tracklist:
Disc 1
Sublunar – Sanctuary (Antidote's Tech Remix)
Duende – Amor de Dios (Jet Set Remix)
Quadran – Don't You Know (Antidote's Quadridote Remix)
Rank 1 – Beats at Rank-1 dotcom (Original Mix)
Sandler – Chemistry (Solid Mix)
Syntone – Cried Out (Tribal-Tech Mix)
Alex Morph – Unification (Original Mix)
Absolute – Day Dream (Original Mix)
Mozes & Edd – Purple Sky (E-Sound Remix)
Inner State – Changes (John O'Callaghan Remix)
Visior & Dark Moon – Hidden Sun (Mind One Loopback Remix)
De Donatis & Ciacomix – Angel (Vocal Mix)
D-Light & Bissen feat. Victoria Gross – Like I Do (Original Mix)
Final + Sylas – Classic Wave (Marcos Remix)
Kay Stone – Alone (Kasuma Remix)
That Mucho – Grant Theft Audio (Yessir) (Original Mix)
Reuter & Schleis – Passion (Original Mix)
Svenson – The Devil's LSD (Original Mix)
Disc 2
KID MASSIVE feat. EBU - "Still Rockin" (Original Mix)
BENJAMIN BATES - "Whole" (Steve Angello's Oversized Mix)
TOM NEVILLE - "Just fuck" (Sandy W. Remix)
A&P PROJECT feat. ZEMYA HAMILTON - "Sunrize" (Frank Renegade Remix)
MAGNOLIA - "It's all Vain" (Steve Angello Remix)
CYCLONE - "Catch Me" (Woody vs. Harlem Hustlers Club Mix)
MO'DAX - "How should I start this" (Original Mix)
WILDE - "I won't let you down" (Sandy Wilhelm Remix)
STUNK OF PUNK - "Superstitious" (Original Mix)
EINMUSIK - "Jerry Heritage" (Long Version Mix)
ENZO MORI & STEPHAN CLARK - "Got the feeling" (Original Mix)
MAL BLACK & DEE LIEVENSE - "Over" (Original Mix)
DIVIDED - "Easy Lover" (Extended Mix)
PAUL MASTERSON pres. SUBWAY - "What U got, What u do" (Original Mix)
MADA & VIC - "Up On (Medly try it out)" (Simply Mix)
SUPERFUNK INC. feat. RON CARROLL - "Lover" (Groovedust Remix)
BIG WORLD - "Love is like Music" (Phunked up mix)
MONKEYHEADS - "Hawai" (Alex Sword Remix)
VOODOO & SERANO - "Blood Is Pumpin' 2005" (Marc Aurel Remix)
Featured track: Sublunar - Sanctuary (Antidote's tech mix)
Where to get this CD:
Club Affairs webshop
Reviews & comments
No reviews for this release.