V/A - Electronix Sunrise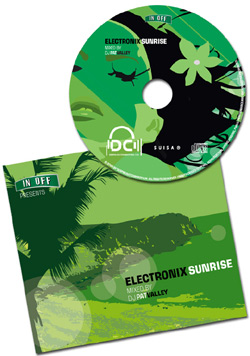 Tracklist:
Patrick Valley feat. Luzimat - Limao (intro)
Section 9 - Monday Showdown (original)
Further - Against the Grain (C&L Reflection Dub)
Sultan - Rezin (original)
Cassino & Laben - Unsound (original)
Snake Sedrick - Only One Way (original)
Sultan - Shivers (Mannels mix)
Dousk - Pa Dida (original)
Benz & MD - Mar Del Plata (Dousk mix)
Cassino & Laben - Unit 5 (original)
Luminary - Wasting
Hammer & Bennett - Language (original)
Elegant Universe - Buggyone (original)
Yilmaz Althanan - Eighties
Patrick Valley - Limao (outro)
CD compilation,
Deepmusic Connection
Release date: July 7, 2006
My featured track: Section 9 - Monday Showdown
Where to get this CD:
Promotional release for Smirnoff Caipiroska. The CD was handed out at local events around Switzerland.
Reviews & comments
No reviews for this release.