Monodrive feat. Beca - Premonition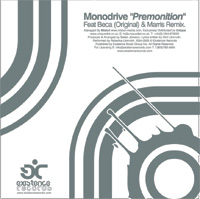 Tracklist:
01.

Premonition (Original Mix)
02.

Premonition (Marrix Remix)
Lyrics written by Olof Lönnroth, performed by Rebecka Lönnroth. Composed and produced by Stefan Jönsson. Released October 2005 on Existence Records.

Where to get this vinyl:
3 Beat Records
4 DJs Only
DJ Shop
(Germany)
Juno Records
Release Records
Technique
(Japan)
Vinyl Warning
(Australia)
Where to get the MP3s:
Beatport
Reviews & comments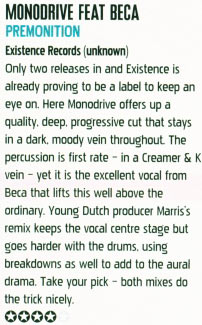 Taken from IDJ Mag, November 2005 issue.