Monodrive feat. Attic Session - Soul Flavour EP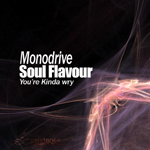 Tracklist:
1:

Soul Flavour
2:

You're Kinda Wry
Lyrics written, produced and performed by Olof Lönnroth. Tracks written, composed and produced by Stefan Jönsson. Released on
Existence Records
2004.

Where to get these tracks:
Beatport
iTunes
Reviews & comments
No reviews for this release.