V/A - Oxycanta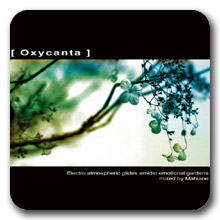 Tracklist:
GHOSTFRIEND - Moist
SOLAR FIELDS - Detection (partially detected)
BETWEEN INTERVAL - Aerolith
AES DANA - Mineral Lights (Submerge edit)
CELL - Floating Retention
ASURA - Galaxies part 1
SYNC24 - Source
HYBRID LEISURELAND - Trampoline Hotel
SUBGARDENS - Listen to the flowers grow (Aes Dana rmx)
OMNIMOTION - Magic Tree
CD compilation,
Ultimae Records
Release date: April, 2006
My featured track: Between Interval - Aerolith
A deep floating compilation embodying the works of pioneers in the exploration of a new wave of electro ambient music. Oxycanta is an expression of spatial density with the constant presence of our natural environment at times in its organic recorded form, others transduced into atmospheric textures by advanced technologies. Its title derives from Crataegus Oxyacantha, commonly known as the Hawthorn, a tree whose leaves and berries are legendary for their heart-healing properties.
Compiled and mixed by Mahiane, aka Sunbeam, co-manager of Ultimae, label artist and deejay, Oxycanta presents various compositions gliding into each other with intangible obbligato.
Mastered by Huby Sea at Ginger Cross Hill studio.
Reviews & comments
Spacious and restful - this is a CD of lush elegance reflecting the best of musical innovation - cutting edge sounds, artfully employed to create a sonic experience that is full of feeling. Dreamy beauty evolves into calculated fragility, steady ambient zones resolve into tranquil grooves - the sonic palette intense and colourful.
- Paul,
Morpheus Music