Sublunar - Sanctuary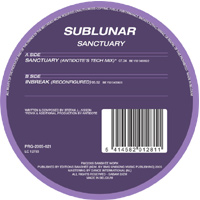 Tracklist:
Tracklist:
A:

Sanctuary (Antidote's Tech Mix)
B:

Inbreak (Reconfigured)
Written & composed by Stefan Jönsson. Additional production and remixing by Antidote. Released 2005 on
Progrez
(Bonzai).

Where to get this vinyl:
4DJsonly
Bonzai webshop
Juno
Megastore
(Sweden)
Technique
(Japan)
Supported by:
Paul Oakenfold, Armin Van Buuren, Airwave, Antidote, DJ Fire, Svenson, Markus Schulz, Victor Dinaire, Max Graham, Jon O'Bir, Andy Bagguley, Will Holland, Marcel Woods, Svenson, Nico Parisi, Nico (Illusion), Solid Slide, DJ Elof, Ferry Corsten...
Sanctuary (Antidote's Tech Mix) is also featured on the following compilations:
Forward
(2005)
Ferry Corsten - Passport: Kingdom of the Netherlands
(2005)
Mellomania Step 04
(2005)
Club Affairs Vol. 1
(2005)
M8 Magazine - Adam Sheridan Mix
(2005)
Sanctuary (Original Mix) is available on the following EP:
V/A - Banshee Worx 1 Year Anniversary EP (limited edition EP)
(2004)
Sanctuary (Original Mix) also available as a digital release here:
Audiojelly
Beatport
iTunes
Reviews & comments
Antidote's Tech Mix
Tipped on the summer sampler as one of the biggest tunes to come from Banshee, Antidote again proves that their teamwork is top of the bill. Antidote are Marnik & Airwave from Bonzai, creating dark, driving progressive. Again they produce a highly original tune, raw pumpin' progressive wrapped in a soulfull melodic sound. The main lead is a bit blurry, creating a dreamy effect. Some vague vocal samples are imitating a repetitive melody, while oldschool, but warm tranzy synths create a fantastic early midnight trancer, presenting an enstranged, mild atmosphere. The subt lety in this tune is hard to find nowadays in the scene. Amazing combo of dream and progressive!
Original Mix
This mix is less pumpin' then Antidoe's Tech Mix. The track is a slow builder, maily focusing on the atmosphere the first minuts. Subtle pads and a laidback bassline are carrying through the first few minutes. Laidback prog with a melody. In the breakdown the pads intensify presenting some stronger melodic sounds, but all together the tune keeps laidback, going at an easy pace. A good track for opening the night, but nothing really spectacular.
Conclusion The Original Mix is a nice debute by this Swedish guy, but the main focus and high rating of this vinyl is about the blasting, unbelievable Antidote Remix. The dreamy, almost alienated atmosphere in this tune, makes it one of the most original releases this year!
- afterhourpower,
trance.nu